The rise of apartment blocks
In every city in the United Kingdom, it only takes a short drive around the city centre to see new apartment blocks rising from the concrete. About 1 in 5 households live in flats in the UK [1]. Apartment blocks allow more people to live on the same piece of land. With the increasing unaffordability of house prices in the UK, the cheaper price tag on apartments offers an attractive alternative option.
The challenge of access control in apartment blocks
One of the key challenges for people managing apartment blocks (and those living in them) is access control. When a single house occupies a piece of land, there is usually a small number of people living in it, and access is controlled by mechanical keys and locks. For a family with two parents and two children, that might mean there are three or four sets of keys to keep track of. In an apartment block, there can be hundreds of people living in the same building. Trying to keep track of physical keys can be incredibly difficult.
The solution: apartment block intercom systems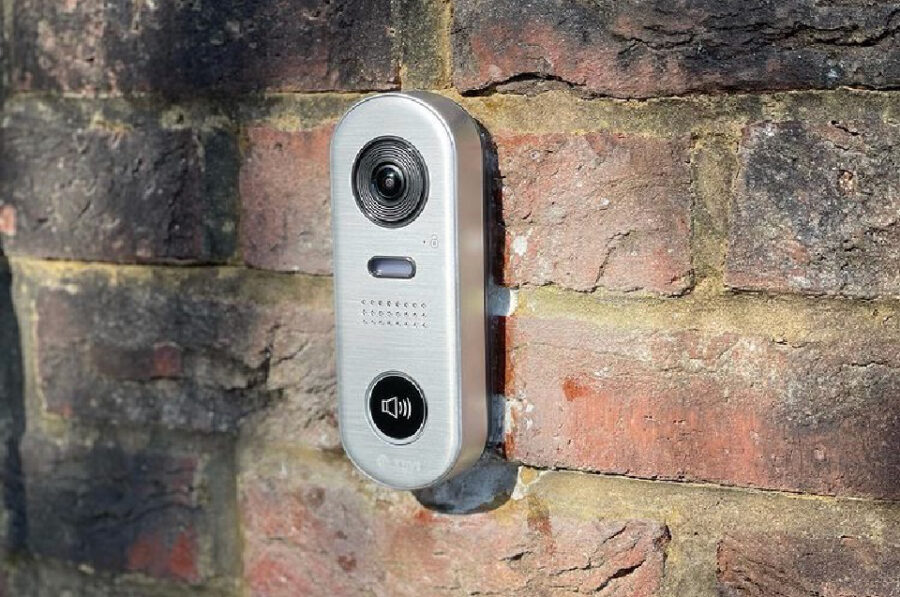 Intercom systems have become very popular access solutions for apartment blocks. They allow residents to see and speak to visitors before granting them access, all from the comfort of their flat. There is no need for the resident to leave their flat and go all the way down to the building's front door to greet a visitor. For building managers, it's also easier. Intercom systems, especially those which incorporate cameras, make it simple to see and keep track of who is entering building and when.
How do intercom systems work?
Apartment block intercom systems consist of two key components: a phone/monitor and a door station. The exact components depend on which system is chosen and what functionalities are required, but the basic principles are the same.
Outside the front door of the building is a door station. Here, the visitor presses the button assigned to the apartment they are visiting. Inside the apartment, a phone/monitor allows the resident to communicate with the visitor through the door station, and then decide to grant to deny them entry to the building. In an audio-only system, the internal device is usually like a phone handset. In an audio-video system, the internal monitor shows a camera feed from the door station.
Benefits of intercom systems
Intercoms and entry systems make life easier and safer for everyone. In apartment blocks, residents may be unable to see the front door of the building. Intercoms allow them see and speak to visitors before they allow them entry into the building. Better visibility means better security, as residents can be confident that the only people inside the building have been authorised access by a resident. Peace of mind and safety are all anyone wants from a home. In apartment blocks, intercom systems play a big part in this.
The 2EASY solution for apartment block intercom systems
2EASY is a multi-way apartment block intercom and video entry system. It offers residents security, safety, and better visibility in their home. Residents are able to see and speak to visitors before they allow them entry into the building. Access control for the residents themselves can also be incorporated, with keypad or swipe card control available on some door stations.
The 2EASY solution comes in two versions: 2EASY 2-Wire and 2EASY IP. Generally, the 2-Wire solution is better suited to smaller projects of up to 32 apartments. The IP version is a flexible solution for larger projects, with up to 256 monitors connected to one door station. For complex building systems, 2EASY IP can even be expanded to up to 8000 networked monitors.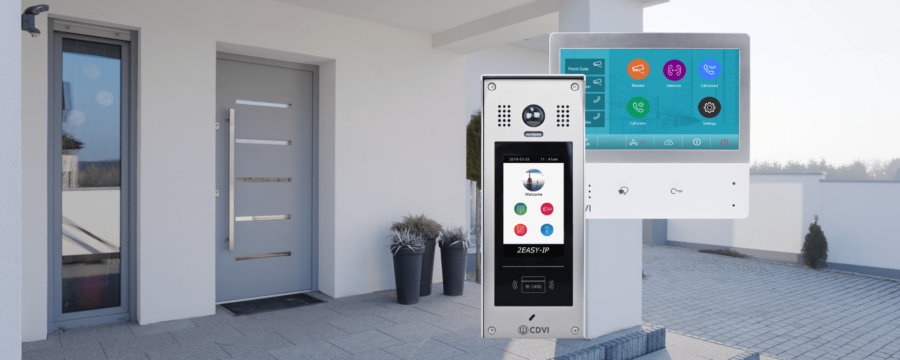 2EASY door stations: delivering high quality images
The door stations available in the 2EASY range are designed to deliver residents high quality live camera images. In the 2-Wire range, multi-way door stations come with either physical call buttons for each apartment (up to 8 apartments), or as a digital touchscreen device for up to 32 apartments. In the IP range, the sleek touchscreen door stations can be connected to up to 256 internal monitors.
All 2EASY door stations are equipped with a 170-degree fish-eye camera lens. This ensures residents receive a clear, high quality live camera image when visitors arrive. Residents can then make an informed decision about whether or not to grant the visitor access. Touchscreen models also come with a built-in swipe card reader. That means no more physical keys to worry about. Residents can let themselves in just by presenting a card or tag to the door station.
2EASY monitors: stylish solutions for any interior
The 2EASY CDV-470 monitor comes in both the 2-Wire and IP formats. It's sleek, stylish, and can be mounted either horizontally or vertically, depending on the resident's preference. With a 7-inch touchscreen, it's user-friendly and doesn't require any specialist training. Monitors store both audio and video recordings, with space for an SD card to increase the storage capacity if needed.
Apartment block intercoms: peace of mind and ease of use
Intercom and video entry systems benefit everybody. For residents, they feel safer and more secure in their homes. It's also much easier for them to manage visitors and deliveries. For visitors, it's a quick and efficient way to let the resident know you've arrived and wish to gain access securely. For building managers, it means better visibility over who's going in and out, and much easier day-to-day administration.
To find out more about 2EASY solutions, contact us via phone, web chat, or email.