According to the Wall Street Journal, "your phone is everything now". And they're not wrong. Yes, it's a telephone and a calculator and a journal and a camera. But it's also your bank, your debit card, your sat nav, your music, your television, your taxi – and the rest besides.
Access control is no different. RFID (radio frequency identification) was officially patented in 1983. Since then, electronic access control has commonly consisted of physical card or tag credentials. Today, we're used to this technology. College and university students often use ID cards on lanyards to gain access to buildings. Many office workers use cards, keyring fobs, or keypads to access car parks and offices. Apartment buildings regularly come with an audio or video entry system.
The natural next phase of access control's evolution is mobile. Everything else is already on your phone. Why not access control as well?
Smartphone credentials
Smartphone credentials are like carrying a virtual swipe card. Inside a standard physical swipe card is a tiny chip and electronic circuit. When the card is presented to a reader, a signal is created between the two elements. The information from the card is passed to the access control system where it determines whether to grant or deny access. Mobile credentials work in the same way, but by using the technology that's already in mobile phones.
How smartphone credentials work
Most smartphone credentials utilise either Bluetooth or NFC technology. Instead of issuing a person with a physical card, a virtual credential is sent to their mobile phone, usually via an app. When in range of a compatible reader, a signal is created between the phone and the reader. Instead of information stored on an RFID card, it's digital information kept in the app that is passed via Bluetooth or NFC to the reader. From there, the access control system uses the information in the same way as that from a card. The system analyses the information and determines whether the person should be granted or denied access.
Benefits of smartphone credentials
Mobile credentials offer a range of benefits above and beyond physical cards and tags. Because everything else is already on your phone, you don't need to remember anything. You're much more likely to misplace a swipe card or forget it at home when you leave the house. It's a rare occasion that we forget to go out without our phones these days.
Convenience is also key. If you're carrying lots of bags or boxes, you probably don't need the hassle of digging a keyring fob out of your handbag in order to get in the door. You've already got your phone – it's so much easier to get inside quickly and efficiently.
Moreover, in the long run, physical credentials need to be replaced. People lose them or damage them or they wear out in time. Mobile credentials don't. You're much more likely to look after your expensive smartphone as a high-value object.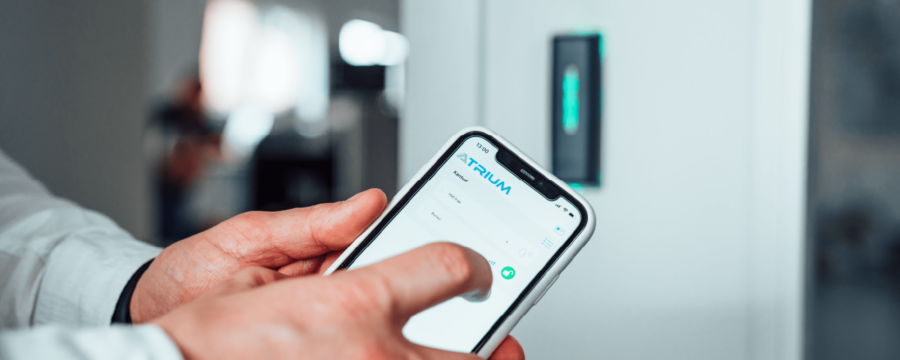 Mobile-PASS smartphone credentials
Mobile-PASS is a system of smartphone credentials that works in conjunction with the ATRIUM access control solution. It's a high security solution that makes smartphone access easy and convenient.
With end-to-end AES encryption as standard, Mobile-PASS ensures robust protection for the data being passed through the system. These credentials are only compatible with the encrypted K Series of Bluetooth readers and the encrypted A22K controller. Intercepting and cloning credentials is just not possible with this level of protection.
Mobile-PASS also adds flexibility to your system. There are FIVE different methods of validating your identity to open the door.
Biometric. Your phone probably already has a fingerprint or facial recognition scanner. You can use that to unlock the door.
Scan. Just hold your phone up to the reader like you would a swipe card – it's as easy as that!
Touch. Tap a button in the app when in range of the reader and you're in.
Voice. Not quite "open sesame", but if you say "open door", that's what will happen.
Automatic. The reader will pick up the signal from your phone when you're in range. Couldn't be simpler.
GALEO Bluetooth keypads
For a simple standalone access solution, the GALEO Bluetooth keypad is for you. Sometimes you don't need the added cost and intrusive installation of an online access control system. With GALEO, all you need is a keypad, a box of electronics, and your phone.
GALEO is an attractive surface mount keypad with backlit keys that make it easy to use in low light conditions. The brains of the system are not kept inside the keypad. It's all in a separate box that you install on the secure side of the door, away from any tamper risk. If the keypad itself was vandalised or stolen, no data could be extracted from it, and the system couldn't be disabled with that alone.
With a Bluetooth connection built into the keypad, the door can be triggered to unlock from a compatible smartphone. The Digicode app allows residents to gain entry without needing to touch the keypad itself. Moreover, residents can create and share temporary access codes with visitors directly from the app. For deliveries or contractors, it's an easy way to provide secure entry to specific individuals.
To open the door from your phone, it couldn't be easier. Get yourself in range of the keypad, open the app, tap a button – job done. You're in. It's a sleek and simple standalone entry solution.
2EASY video door entry
Video entry systems are common on apartment blocks and gated communities. They allow residents to see and speak to visitors before granting them access to a property. Typically these systems consist of a door station with a camera and microphone on the outside of a building, and a monitor screen on the inside where residents can receive calls.
One way to grant entry when a call comes in from the door station is to walk to the monitor, review the call, and press a button on the monitor. That will instantly unlock the door and grant the visitor entry.
With the 2EASY video entry system, it's even easier than that. With the VDP Connect smartphone app, you can do it all from your phone. Calls from the door station can be set up to divert to the app either immediately, or after 30 seconds when nobody answers at the monitor screen. From your phone, you can see and hear the visitor and remotely unlock the door if you want to grant access. All you need to do is open the app, answer the call, and hit one button to trigger the unlock.
Phones aren't going anywhere. The convenience and instancy they offer make life easier for a huge range of day-to-day tasks. Access control is no different. Solutions abound for products and apps that allow you to use your phone to gain entry. It's all about saving you time and money.
For more information about the solutions described in this article, contact CDVI.